Approaches to Maintenance of tower crane
Views:11 Author:Site Editor Publish Time: 2018-02-26 Origin:Site
Types of Maintenance Management
There are three main types of maintenance management that may be applied to the maintenance of machines, including tower cranes: breakdown maintenance, preventive maintenance and predictive maintenance. Not all of these are appropriate for the effective maintenance of tower cranes, as explained below.
Breakdown Maintenance
Breakdown or "run-to-failure" maintenance management has a simple and straightforward logic. "If it ain't broke, don't fix it" is often seen as a way of limiting expenditure on maintenance and keeping costs low. The problem with this approach for tower cranes is that any failure could present an immediate and unacceptable risk. Additionally repair costs may well be very high when the machine does break down, often at the most inconvenient moment, with considerable downtime whilst repairs are carried out.
Planned Preventive Maintenance
All planned preventive maintenance systems are time driven. In other words, maintenance tasks are carried out at intervals that are based on actual hours of operation or on an interval of time that equates to an average number of operating hours. The maintenance interval is based on experience of breakdowns or the mean-time to failure (MTTF) as illustrated in Figure 1. The MTTF or bathtub curve indicates that a newly installed machine has a higher probability of breakdown due to installation problems in the first few weeks of operation. Following this initial period, the probability of failure is relatively low for an extended period until wear and deterioration means that the probability of breakdown/failure increases sharply with elapsed time.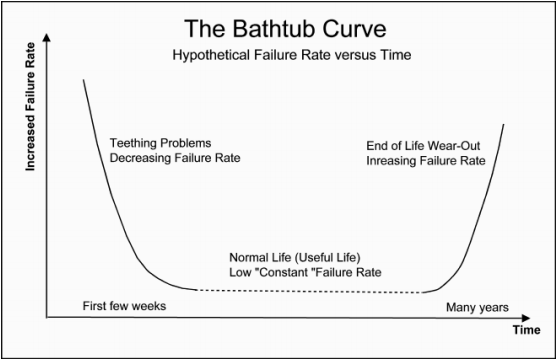 Figure 1. -
The Bathtub Curve The problem with this approach is that machines wear at different rates over time depending on variety of factors such as environment, frequency of use and load spectrum. If maintenance intervals are too great the machine may breakdown anyway and if they are too short maintenance costs may be unnecessarily high. Inappropriate or poor maintenance can also cause breakdowns.
Predictive Maintenance
Predictive maintenance is a condition driven preventive maintenance approach which instead of relying on industry average life statistics (i.e. mean time to failure) to determine maintenance intervals, uses direct monitoring of the machine. This may include mechanical and electrical condition, environmental factors and other indicators such as frequency of use and load spectrum. These are used to determine the actual mean time to failure for the individual machine and achieve the best balance between low maintenance costs and unplanned failures.
Best Practice Maintenance Regime For Tower Cranes
In the case of tower cranes, reliance on the "Breakdown" approach is totally inadequate, as any failure presents an immediate safety risk, whilst at the current stage of tower crane technology a total "Predictive Maintenance" system would be difficult to implement. Current best practice is therefore "Planned Preventive Maintenance" backed up by repairs following breakdown. This involves replacing parts and consumables or making necessary adjustments, at preset intervals so that risks do not occur as a result of the deterioration or failure of the equipment. Some elements of Preventive Maintenance such as oil sampling and use of data logging records may well be able to be incorporated into the maintenance regime.
Investigation of Excessive Wear or Failure
Where maintenance activities identify excessive, unexpected or unusual wear, or failure of tower crane component, this must be fully investigated and a solution sought. This may well require engineering assessment, involve the manufacturer and must be fully documented. The documentation must be presented to the competent person at the time of the next thorough examination.
Auditing of Maintenance Systems
Once a maintenance system has been established it is important that it is regularly audited to ensure that the system is being adhered to and that it is functioning correctly. Auditing should be carried out by an auditor from outside the maintenance organisation with a sufficient degree of independence. If a business has a formal quality management system such as an ISO 9001 accredited system the maintenance activity should be integrated into that system and the scheduled audits.
Tower Crane Users Responsibilities for Maintenance
he Health and Safety at Work etc. Act 1974 sets out a general duty requiring that work equipment is maintained so that it is safe. This requirement is reinforced by Regulation 5 of the Provision and Use of Work Equipment Regulations (PUWER) 1998 which requires that "Every employer shall ensure that work equipment is maintained in an efficient state, in efficient working order and in good repair." In the case of a hired-in tower crane the actual undertaking of the maintenance is often delegated to the crane owner by the user. The user however, retains the legal responsibility for ensuring that the maintenance, including the rectification of defects, is carried out.