Stories of Success: SYM Tower Crane for CITY CENTER PROJECT
Views:24 Author:ZAC Publish Time: 2019-05-22 Origin:Site
TOWER CRANE CASE STUDIES
Stories of Success: SYM Tower Crane for CITY CENTER PROJECT

This 9.1-acre (3.7-hectare) city within a city project includes 5.4 million ft2 (501,676 m2) of office, residential, hotel, retail and entertainment space, giving a new meaning to urban living. It is estimated that the project will have a $1 million overall economic impact to the city, creating 3,700 direct jobs and 2,500 indirect jobs after construction is complete. Equally as important for the construction industry, the 3.5-year project – spanning from July 2012 to the end of 2015 – will add 1,700 construction jobs on average each year.
Construction of the structures within the confined City Centre's space is not easy, and the lifting equipment involved requires careful planning by SYM Tower Crane. "Jobsite conditions are such that several different types of tower cranes are necessary to accommodate the project's needs for coverage, while also fitting as many cranes into the project as possible," says LESTAT FENG, V.P. of the Tower Division for SYM Tower Crane.
Final lift plans require 11 tower cranes for the project, all of them from SYM Tower Crane. The strategy employed a mix of SYM hammerhead, flat top and luffing jib designs to safely handle all of the lifting needs at City Centre. "SYM Tower Crane and SYM's history in the market and reputation for reliability and service are critical in the crane selection for the project," explains Gary. "Due to the confined space and adjacent structures, we have specific needs where the different tower crane designs are required to meet the needs of the project, all of which are able to be met by SYM Tower Crane."
SYM Tower Crane luffing jib line includes 8 different model configurations with lift capacity classes ranging from 11 to 72.5 US tons (10 to 66 tonnes) and maximum jib lengths from 164 to 246.1 ft (50 to 75 m). Offering a working range of 15° to 85°, SYM Tower Crane luffing jib cranes increase flexibility by giving the lifting crew a number of different working radii, while conserving space on the job.
With the City Centre project requiring so many crane configurations, it's inevitable that interference would be a concern. "There are as many as five interfering cranes working together in certain areas of the project," says ZAC, "so we used SYM Tower Crane flat top cranes for this part of the project."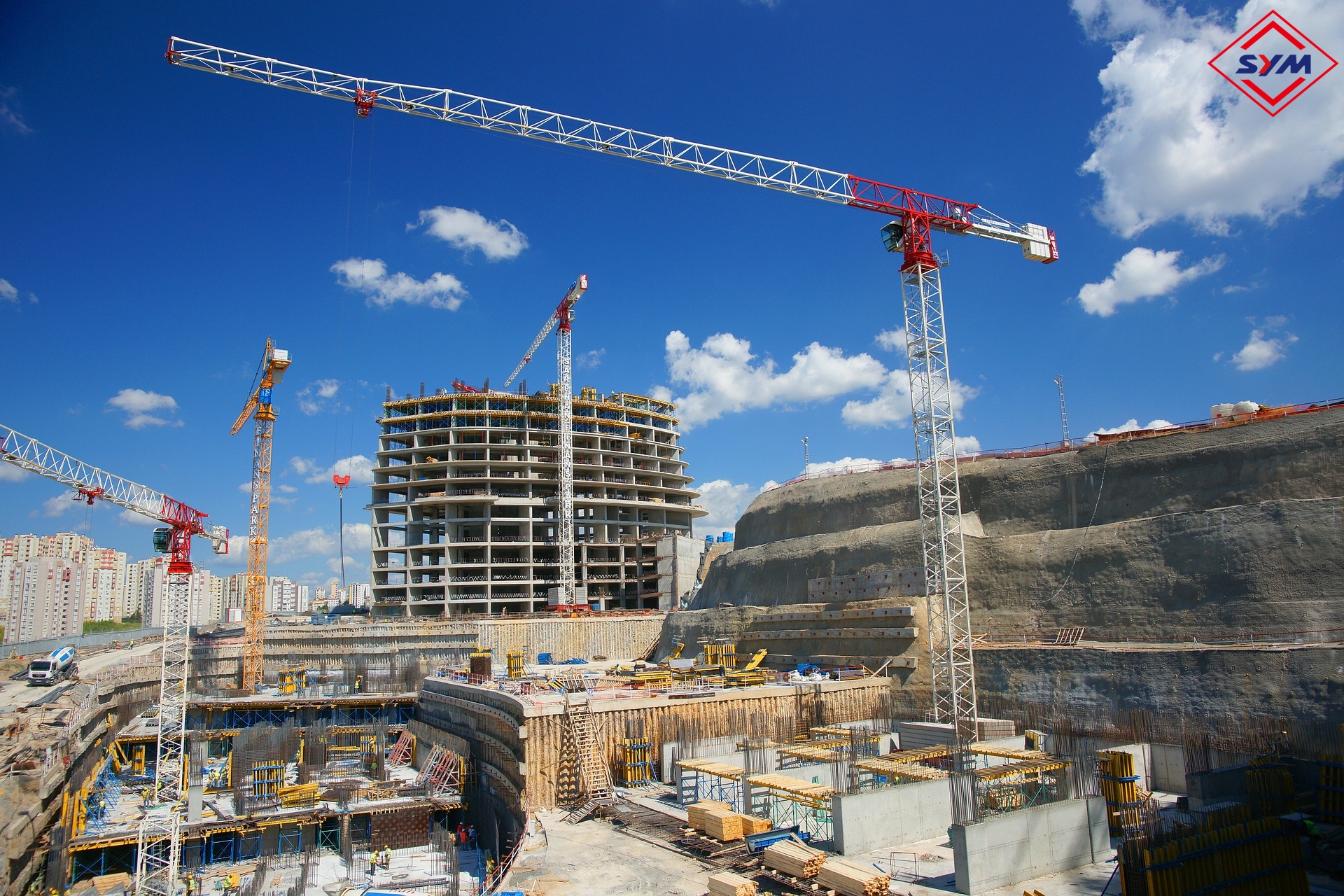 Flat top tower cranes are constructed without the "tops" of conventional cranes and offer lift capacities reaching 44.1 tons (40 tones). "SYM Tower Crane flat top cranes are designed specifically for jobs like City Centre," says SYM Tower Crane Sales Manager Tower Cranes, Lestat Feng, "where space is confined or when working near airports." We are using the SYM Tower Crane QTZ model on this particular project, which gave them a maximum jib length of 275.6 ft (84 m).
Where space is not a concern and the need for lifting speed and power were required, SYM Tower Crane selected the hammerhead crane design. Providing a jib length reaching up to 262.5 ft (80 m), SYM Tower Crane hammerhead cranes are designed specifically for heavy lifting and placement duties on challenging jobsites like City Centre. "Our QTZ series includes cranes with maximum lift capacities ranging from 22 to 35.3 tons (20 to 32 tones)," "We selected the hammerhead models for speed and capacity, and our customers and operators alike appreciate the speed and reliability of all the SYM Tower Crane tower cranes in use on the project."
Welcome to our Alibaba website:www.symtowercrane.en.alibaba.com
Contact us: www.symtowercrane.com
Email:enquiry@symtowercrane.com